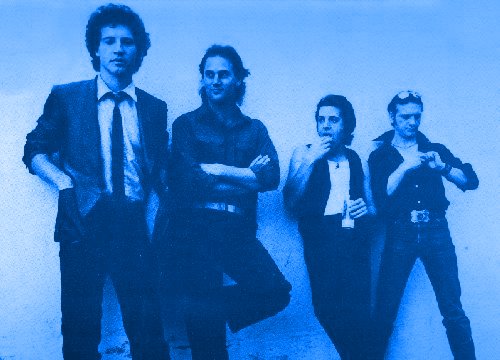 Tommy Heath, Jim Keller, Terry Nails, Micky Shine
'Tommy Heath and Jim Keller were the heart and soul of Tommy Tutone. Heath sang and played guitar and piano while Keller's duties included some singing and lead guitar. They worked with bassist Jon Lyons, who was later replaced by Greg Sutton and drummer Victor Carberry, who was replaced by Jerry Angel. Steve LeGassick joined in 1983, playing keyboards and synthesizer.
Heath and Keller first got together in 1978, working in little clubs around San Francisco. Keller had migrated from New Jersey to the Bay Area, where he earned a living renovating old buildings, occasionally using his spare time to play guitar. Heath a hometown boy, had spent much of his teens playing in various bands around northern California.
Both Heath and Keller had been writing songs and working on demo tapes before they met. Heath was reportedly taken with Keller's unique guitar style, developed on his own, since he never took lessons.
After working up some songs together, the duo was signed to Columbia Records, debuting in the spring of 1980 with "Tommy Tutone" (Columbia 36372). Their first single, "Angel Say No" (Columbia 11278), was a success, moving into the Billboard magazine Top40. The single also helped promote the album, which also did well in the summer of '80. One critic cited Keller and Heath for "a rate talent for writing catchy hooks and memorable melodies on this fine debut."
Two other singles were released from their first album. Despite the good reviews and some radio airplay, both "Cheap Date" (Columbia 11333) and "Girl In The Back Seat" (Columbia 11353) failed to chart. But, based on the strength of their first single and album sales the band did get a stint as the opening act on a Tom Petty and the Heartbreakers tour.
After taking more than a year to write and record new songs, Keller and Heath were back in business with a new album, "Tommy Tutone - 2" (Columbia 37401), that would prove to be their breakthrough record. Issued in late 1981, the album's first single would be their biggest hit.
"867-5309/Jenny" was an infectious power pop record with a great chorus and an intriguing story line. The obsessed lover doesn't know Jenny, but he's fallen in love with her after finding her telephone number scribbled on a wall. Increasingly paranoid, he keeps calling the elusive Jenny but never meets her.
The song caught on immedidately with radio programmers and it charted on Billboard in January 1982, peaking in the Top 5. It was certified gold, for sales of more than 1 million copies. The only people who may have actively disliked the cheerfully paranoid record were those with telephone numers that matched the song's title. And there were reports that some local phone companies received complaints from perplexed folks with "Jenny's" number.
With a Top 10 hit to their credit, it wasn't a surprise that Tommy Tutone's album also did well, peaking at No. 20 in the spring of '82, called "consistently fun, hard-driving, working-class power pop," by one writer. Unfortunately, the album's second single - "Which Man Are You" (Columbia 03002) - didn't do so well even though it did get some radio exposure.
"National Emotion" (Columbia 38425) was their third album. Issued in the fall of 1983, it did chart for a few weeks on the album lists but none of the singles from the release were successful.
With the minimal success of their third album seeming to be an indication of their future, Heath and Keller decided to call it quits.'
(The above introduction to Tommy Tutone was written by Mark Marymont for a 1997 re-release of the bands first two albums.)
It should be added that Tommy Tutone had initial cuts on the local Jupiter label and they appeared on that label's 'City Lights' (Jupiter JR 2001) compilation. That was followed by a demo for Warner but it was Columbia who actually signed the band.
Also, Tommy Tutone's hit single '867-5309/Jenny' (Columbia 02646) which peaked at No 4 in March '82, was co-written by no other than Alex Call. Clover's Micky Shine joined Tommy Tutone sometime after he left Clover in 1977 and played drums on Tommy Tutone's first album.
In 1992 the name Tommy Tutone returned to the music scene - although Heath and Keller disbanded Tommy Tutone in the 80s. Tommy Heath - who relocated from San Francisco to Nashville - is using this name now for his recordings. Tutone has been Tommy's nickname for years now which should give him all the right to use it.
Heath, as Tommy Tutone added two songs, 'Love Is Out There Somewhere' and 'Eventually', to a Various Artists recording called 'Nighttime Roundup' by Taxim Records - presenting a collection of contemporary rock songs from the state of Tennessee. All istruments played by Tommy Heath and Kenny Mims.
Four years later he released 'Nervous Love' on the Appaloosa label. Interesting to see the Fred James connection here and Mary-Ann Brandon singing backing vocals. Brandon being a very talented blues singer herself with several records for Appaloosa and Taxim.
Last, but not least 'Tutone.rtf' was released in 1998. Heath still playing what he is know for best - 'working-class/bar-band rock & roll crossed with power-pop'.
Tommy Tutone's Discography:
1979 City Lights (Jupiter Records - Compilation VA)
1980 Tommy Tutone (Columbia NJC36372)

1981 Tommy Tutone 2 (Columbia 37401)

1983 National Emotion (Columbia)

1992 Nightime Roundup - VA (Taxim Records TX 2006-2TA)

1996 Nervous Love (Appaloosa 109)

1997 Tommy Tutone/Tommy Tutone 2 (Collectables COL-5845)

1998 Tutone.rtf (Secret Disc Label)
City Lights, VA
(Jupiter Records 1979)
What's It Gonna Do For You -- Reno

Musicians: Tommy Heath, Jim Keller, Steve LeGassick, Terry Nails, Micky Shine

Other bands on this compilation album: Rocky Sullivan, Fast Floyd, Born Ready, Back Road

Out of print!
Try
eBay
GEMM
...
Tommy Tutone
(Columbia 1980)
Angel Say No -- Cheap Date -- Girl In The Back Seat -- The Blame -- Fat Chance -- Rachel -- Dancing Girl -- Hide Out -- What 'Cha Doin' To Me - Am I Supposed To Lie -- Sounds Of A Summer Night

Musicians: Tommy Heath, Jim Keller, Terry Nails, Mickey Shine

Tommy Tutone 2
(Columbia 1981)
867-5309/Jenny -- Baby It's Alright -- Shadow On The Road Ahead -- Bernadiah -- Why Baby Why -- Which Man Are You -- No Way To Cry -- Steal Away -- Tonight -- Only One -- Not Say Goodbye

Musicians: Tommy Heath, Jim Keller, Lonnie Turner, Rick Cutler, Jon Lyons, Victor Carberry, Steve Le Gassick, Sam Clayton, John Cowsill

National Emotion
(Columbia 1983)
Dumb But Pretty -- Someday Will Come -- Laverne -- National Emotion -- Get Around Girl -- I Believe -- Money Talks -- Imaginary Heart -- Sticks And Stones -- I Wanna Touch Her

Musicians: Tommy Heath, Jim Keller, Greg Sutton, Steve Le Gassick, Jerry Angel, Gary Mallaber, Steve Forman, Jim Saad, Victor Carberry, Peter Wiltz, Doug Anderson, Jerry Jumonville

Out of print!
Try
eBay
GEMM
...
Nighttime Roundup, VA
(Taxim 1992)
Love Is Out There Somewhere -- Eventually

All instruments by Tommy Heath and Kenny Mims. Recorded in Nashville, TN.

Other bands on this compilation album: The Sluggers, Eli and the Stranger, Warsaw Falcons, Mr. Twistuer & Pointed Stick, Full Moon Band, Andy Arrow and the Twangtown Mavericks, Richard Fagan, Larry Raspberry & The Highsteppers, Gwil Owen & The Thieves, B.C. & The Dartz


from TAXIM!

Nervous Love
(Appaloosa 1996)
A Long Time Ago -- Once You Start Walking -- I Wake Up In Heaven -- Another Slow Dance -- Our Special Place -- Marincy, Arizona -- Nervous Love -- Mr Hold Up Man -- The Far Side Of The Bed -- Reach Out And Touch Her

Tommy Heath: Lead Vocals, Rhythm Guitar, Hammond Organ/ Fred James: Lead Guitar, Dobro, Hammond Organ/ Jeff "Stick" Davis: Bass/ Rick Lonow: Drums/ Mary-Ann Brandon, Fred James, Tommy Heath: Background Vocals

Tutone.RTF
(Secret Disk 1998)
Young Love -- Jenny's Calling -- The Grifter's Prayer -- Our Special Place -- Happy Birthday, Anyway -- A Little Bit O' Heaven - (And A Whole Lot Of Hell) -- The World Ain't Flat -- Lynn's Song -- Forever's Too Far Away -- I'm Still With You -- Once You Start Walking -- Everybody Else Is Wrong

Musicians: Tommy Heath, Daniel Bejarano, Darell Verdusco, Mona Gnader, Brad Lang, John McClendon, Tony Hodson, Kris Landrum, Roger Smith, Victor Bejarano, John MacDonnel, Dave Halford, Zebb Bartolome
Further Links:
Tommy Tutone's Website
| | |
| --- | --- |
| © 2002-2015 bay-area-bands.com | |