San Francisco Chronicle, Friday August 8, 1974:
Van Ending Club Dates
By Joel Selvin

Ever since he moved here several years ago, Van Morrison has enjoyed working the areas small rock clubs. However; his performance Tuesday at the Orphanage - electric in its rapport with the full house - will apparently be his last club date for some time.

Morrison will cease playing clubs on an announced advertised basis, because the exposure has damaged his hard ticket-concert appeal on the west coast, according to Orphanage manager Richard Hundgeon.

Morrison, who just returned from Europe where he played the Montreux Jazz Festival, is a major rock attraction in the U.S. and Europe. He is probably the biggest name act to work the local clubs regularly.

For his two night stand, Morrison was accompanied by the red hot Marin County sextet Sound Hole. As always, he communicated every nuance in his standards - "Into The Mystic," "Moondance," "Listen To The Lion" and "Warm Love". He closed the early show with "Gloria" - the 1965 hit record he sang as a member of the Irish rock group Them.

He offered only two new compositions - both fairly blues oriented - but did play a good deal of bebob tuned tenor saxophone, something relatively new for him.

The short, red-haired singer delivered his songs in his customary fashion - eyes closed, body held away from the audience, often with his arms folded behind his back.

Tight, bright and brassy, Sound Hole was extremly impressive in its own set, as well as backing Morrison. The band possesses no less than four first-rate soloists, especially young guitarist Brian Marnell and saxophonist John Colla.

The band stayed close to conventional rhythm and blues sounds, with enough jazz flavored accents to keep it interesting. The two piece horn section moved through bridge passages like James Brown's Famous Flames of yore.

Sound Hole performs this weekend at McArthur's in San Anselmo.
---
San Francisco Examiner, Wednesday September 4, 1974: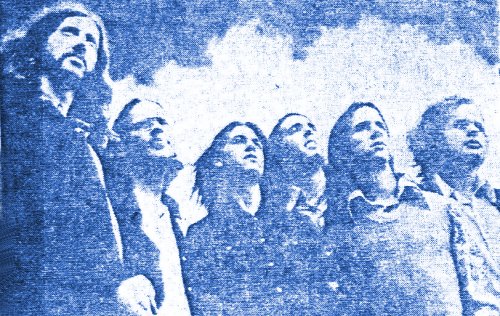 Sound Hole, with Saxist John Colla and pianist John Farey on the right are
Van Morrison's current accompanists and proteges.
Van Morrison Winns Over Frustrations
By Phil Elwood
Last night at the Great American Music Hall finally felt, after a dozen earlier encounters, that I knew and at least partially understood Van Morrison, one of the most enigmatic yet successful of popular music stars.
Morrison's performance, and that of his current instrumental ensemble colleagues, the Sound Hole sextet was not particularly superior. It was good, indeed on occasion brilliant, but more important was the scene, the audience, the material and the artistic craftsmanship which Morrison employed to make his 70 minutes on stage worthwhile to him. That his audience enjoyed it all was to be expected, and (at least sometimes) irrelevant.
Although Morrison is something of a folk-rock super-person, with jillions of plastic discs sold and numerous of his tunes accepted as "standards," he still is an insecure performer until he feels his groove. Stories are plentiful about times when Morrison has never found his mood and has become frustrated with his audience, his band, and himself. But Morrison now - based on last night - seems relatively at peace with himself. He is playing alto sax in a style that leads me to think his afternoons must be consumed with Charlie Parker listening.
He is singing more in the jazz-blues vein than ever before, playing mouth-harp when the spirit moves him, and quite obviously working hard to establish the legitimacy of his various musical choices in the ears of his predominantly rock-oriented audiences.
He did "Ain't Nothin' You Can Do," "Saint Dominic's Preview." Sonny Boy Williamson's "Help Me" and "Gloria" and "Listen To The Lion." And lots more, such as "Wild Night" and "I Like It Like That."
Morrison punches out his vocal sounds like a honking saxist. He reveals his musical preference regularly leaning on the blues and jazz-based variations. When words are inadequate he scat-sings - melody and rythm, but no lyrics.
Who knows if Morrison is satisfied with a performance? Morrison last night, I thought, wanted the Sound Hole band (with solo guitarist Greg Douglass added) to come out more, to push him, to surge and roll over the audience like his lyrics were doing.
His voice was clear, unstrained. Douglass, although often hesitant and understated, played well.
Sound Hole itself, who played a 35 minute intorductory set, had its ups and downs. Based in Marin, with evident talent on most instruments, it is a group still to find itself.
I was especially impressed with alto saxist John Colla and pianist-trombonist John Farey. A ...(?) ... tenor man Brian Hogan sing sometime.) Sound Hole is flavoured with rock, pop, blues and the jazz-spirit. Bassist Mario Cipollina is unspectacular but steady, guitarist Brian Marnell an excellent soloist, although, he was under-amplified last night.
Morrison, having established himself, now is digging into his music and attracting around him less experienced but attractive young musicians who can help put across his various musical messages. ...
BACK TO SOUND HOLE ENTRY
| | |
| --- | --- |
| © 2002-2015 bay-area-bands.com | |