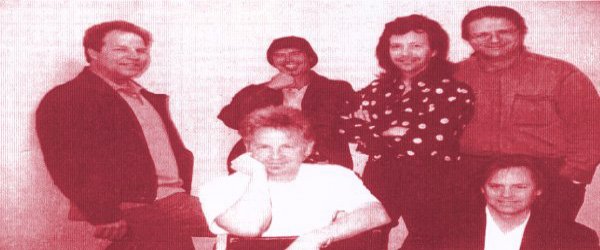 Lucky Devils 1997: Michael White, Johnny Colla, Billy Lee Lewis, Ric Wilson, Henry Salvia, Gary Vogensen
Johnny Colla & The Lucky Devils were formed in the middle of the 90s by Johnny Colla who normally plays rhythm guitar and sax for Huey Lewis and the News. Whenever the News take a break Johnny plays his favorite music with his own band. Major influences in his music are rhythm and blues and 50s music.
Johnny Colla was born July 2, 1952 in Sacramento, California. His first bands were the Furlanders and Cottonmouth. After these he joined Sound Hole as saxophonist. Sound Hole (pictured on the right side) was successful on the local level and even managed to become Van Morrison's backing band for some time.

After Sound Hole Johnny was part of Sly and the Family Stone for a few months and even recorded with them. As a matter of fact Sly wasn't too active and at the end of the 70s Johnny joined what was to become Huey Lewis and the News. For this band he became saxophonist, rhythm guitarist, background singer and songwriter.




Johnny Colla, Mario Cipollina, John Farey, Bill Gibson
Brian Marnell, Brian Hogan
Huey Lewis and the News' success is surely also Johnny's success as all the hits, awards and nominations show. He is an integral part of this band! With the News he has also played on many other artists' records as a guest. Johnny has his own home studio and has also recorded songs without the News.
He recorded one song for a Don Covay tribute album in 1993, sharing lead vocals with Arlene Smith (The Chantels) on "Letter Full of Tears". The work with John Tiven on the Covay tribute album some years later made John record another song. In 1995 John contributed "My Christmas Wish" to Holiday Heroes, a Christmas album (to support the Klaas Foundation For Children).
Read this

on "Holiday Heroes" and find out more about this R&B Christmas album.
In the middle of 2002 Johnny Colla finally released his first solo CD "Lucky Devil" on Way Out West Recording. Not only does the CD include his music but being an enhanced CD, also a computer part which is introducing Johnny too all people who hear his music for the first time.
All songs on the album were written/co-written by Johnny Colla, except "Your Old Boyfriend" and "The New Romeo", which was hit single for Southside Johnny in the middle of the 80s - written by Alex Call, who had once recorded this song for his first album. The other song that has been released before is "Time Ain't Money", the closing track on Huey Lewis and the News' Hard At Play.
Several musicians and friends join Johnny on this album, including some members of his band Lucky Devils. Background singers include Sandy Griffith and Conesha Monet Owens who were singing background vocals with Huey Lewis and the News during the early 90s, and Beth Reynolds - who once sang backgound on 'Exodisco'.
In 2008 Johnny released a radio interview he did in Chicago for free download on the Huey Lewis and the News website that deals with his solo career and includes three acoustic tracks that feature him and Stef Burns on guitar. Please check out this interview - the link can be found below.
Johnny Colla's Solo Discography:
Back To The Streets
Celebrating The Music Of Don Covay
Various Artist
(Shanachie 1993)
"Letter Full Of Tears" performed by Arlene Smith and Johnny Colla

"The Chantels' lead singer - who hasn't made a record in over twenty years - and Huey Lewis and the News' saxophonist/guitarist/backing vocalist meet on one of Gladys Knight's earliest hits for some stirring tradeoffs."

Other artist on this album: Ron Wood, Robert Cray, Bobby Womack, Iggy Pop, Peter Wolf, Corey Glover, Ben E. King, Jim Carroll, Tod Rundgren, Gary U.S. Bonds/Chuck Jackson, Nona Hendryx, Barence Whitfield, Billy Squier, Mick Taylor/Chuck St. Troy, Jimmy Witherspoon, Johnny Kemp

Holiday Heroes
Various Artists
(Soul Purpose 1995)
"My Christmas Wish" performed by Johnny Colla

"... Biggest surprise: ``My Christmas Wish,'' a breezy Phil Spector-inspired number by Johnny Colla of Huey Lewis and the News. Really."

Other artists on this album: John Tiven's Ego Trip, Dan Penn, Mavis Staples, Bobby Womack, Chuck Jackson, Dennis Edwards, Johnny Kemp, Spooner Oldham, Graham Parker, Jerry Buttler, Donnie Fritts, The Chi-Lites, Felix Cavaliere, Alan Merrill and Friends

Lucky Devil
Johnny Colla
(Way Out West Recording 2002)


from artist!

Time Ain't Money -- Second Chance -- Hold On You -- Over And Over -- Let's Start With Love -- The New Romeo -- Runaround Heart -- Your Old Boyfriend -- Letter Of The Law -- Where Are The Words?

Musicians: Johnny Colla, John Mader, Bill Gibson, Glen Letsch, Ric Wilson, Garth Webber, Gary Potterson, David Fredericks, Henry Salvia, Tony Lufrano, Dalice Craft, Loralee Christensen, Claytoven, Sandy Griffith, Conesha Monet Owens, Beth Reynolds, Brian Cramer, Bince Battaglia, Gary Granlee
Further Links: