San Francisco Chronicle, Tues., Aug. 29, 1978

Post-Tuna Casady
SVT: A Rock Band That Believes in Blend

By Conrad Silvert
Jack Casady's new band, which sports the unlikely name SVT, played a hard-edged and high-energy pair of sets Sunday night to a small but enthusiastic house at the Old Waldorf.

The band, which includes keyboard player Nick Buck (formerly with Casady in Hot Tuna), guitarist/lead vocalist Brian Marnell and drummer Bill Gibson, played a style of nearly airtight, down-home rock and roll that is a dramatic change-up from the loosely zoned-out endless boogie that marked the final stage of Hot Tuna, Casady's former group in partnership with Jorma Kaukonen.

Hot Tuna recently broke up after a sporadic seven-year experience. "It was getting a bore," Casady said backstage at the Waldorf. "I was tired of playing long solos over the chord changes. There was very little structure, and the vocals were totally secondary. With SVT, the first thing we do is lay out the vocal part and build the song around it.


Jack Casady (lower right) and his new band: your basic power rock quartet
Though no member of SVT (least of all Casady himself) is featured at the expense of the others, a great share of the spotlight naturally falls upon Brian Marnell, 24, who sings in an emotional, attractively adolescent voice, and who plays an exciting, no-nonsense guitar.
Marnell wrote several of the band's to-date 16 or 17 original songs – right now they don't cover anybody else's – but each of the four writes.
Sunday's first set included several of Marnell's material, a Jack Casady original, "She's Not a Dog," and two ambitious constructed tunes by Nick Buck, who sang his own leads in a rebellious sarcastic tone. Buck's rather intellectual vocal approach was a slightly odd contrast to Marnell's, which was both uninhibited and vulnerable.
The sound of SVT at any given moment is your basic power rock quarted – a punchy bottom, a raspy, stinging guitar, and a percussive keyboard accompaniment. Looking at each of their songs as a whole, however, one can see lots of dynamic shifts. It's an ensemble sound that doesn't leave much room for soloing. And Jack Casady, for the past ten years or so, has been known as one of rock's most original soloing bassists.
"People asked me," Casady said, "why don't you do a Stanley Clarke act and make your band a solo vehicle? Well, I played nothing but solos with Jefferson Airplane and Hot Tuna. Right now it's much more fun to solidify those improvisional ideas into concepts, into songs that entertain."
Sunday's set was a bit rough at first (Jack's late arrival at the club caused a hurried start), but the overwhelming impression was that of cohesion and self-aware professionalism.
Indeed, drummer Bill Gibson and Brian Marnell each has several years' experience in the defunct Marin band Sound Hole, which Gibson, now 26, founded nine years ago. (Gibson also has backed, among others, Van Morrison and Bill Champlin, and is a hard-driving drummer who is also unusually flexible and expressive.)
I couldn't decipher many of the vocals, which seem to be subordinate in his band to overall rock and roll impact. But one of Marnell's numbers, "Livin' in an Age," embodies classic rock sentiments such as "no identity, no personality, no one knows just who you are."
The method by which SVT expects to become known is (1) sign with a major record label, an imminent event; (2) get the album recorded, released and promoted, and (3) get on the road. They expect to reach (3) sometime next spring.
Casady, who is 34, cracked backstage, "Looks like I'll be past 35 by the time I get my first platinum album."
---
S.F. Examiner – Page 5, Sat., Jan. 6, 1979

Sight and sounds
The hometown talent shines

By Philip Elwood
It's like old home week for local musicians in the clubs – at five saloons that more often than not feature imported acts, last night all were featuring Bay-Area-based performers.

Jack Casady and his new-wavish SVT gang are holed up in the Boarding house; …

...

And so goes the life of both the musicians (and who's to define their music?) and the soundmen – and who's to question their importance?

And something of the same feeling was in evidence at the Boarding House while Casady and the SVT quartet roamed through the audio stratosphere.


Veteran rock bassist Jack Casady is riding the new wave
Casady, a Jefferson Airplane founder and alumnus, gradually moved onto his own with the Hot Tuna band. Long delays in recording schedules and live performances encouraged him, a half-dozen years ago, to combine with Airplane guitarist Jorma Kaukonen to found that band – and the same restlessness, obviously, has led him even further away from the contemporary cerebral and complex sounds of, say, the Starship, into the hard rock that SVT plays.
This isn't "punk" rock, but it might be called "new wave." And it's very loud, strongly rhythmic, and distinctively original – Brian Marnell sings a lot, plays guitar, and writes much of SVT's material.
SVT is, like the early rockers, a good dance band: Casady is a hard-driving bassist. They have a stronger and fuller sound projection than most new-wave bands, and yet they swing.
---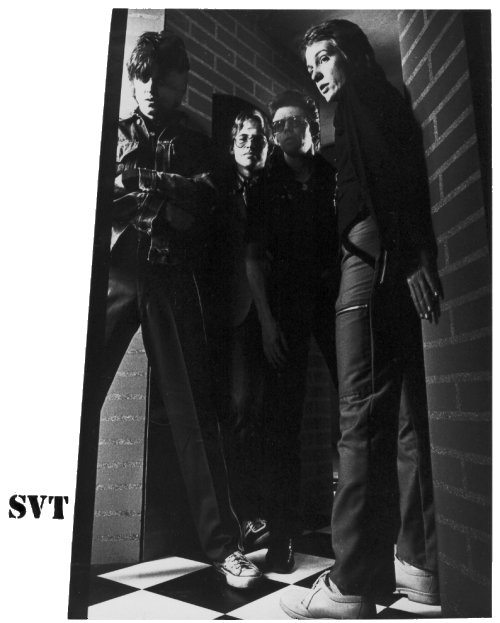 Brian Marnell, Bill Gibson, Jack Casady, Nick Buck
BACK TO SVT ENTRY
| | |
| --- | --- |
| © 2002-2015 bay-area-bands.com | |