Jessica Knox - that's smooth rhythm & blues, soul and contemporary jazz backed by a professional band. Jessica, born in Alaska, started her career in San Francisco in the 1990s, headlining places like the Paradise Lounge or Café Como. Her vocal performances are very soulful and feature a mix of original songs and classic R&B cover songs. These are mostly love songs, thus it is not a bad idea to visit one of her shows with your loved one.

Right now Jessica Knox is backed by a high-energy 7-piece band. There is Mark Okimoto on keyboards, Kris Dinoto on drums, Mel Nelson on bass, Steve Gileno on trumpet, KC Connor on guitar and Val Jerdes on saxophone.

In addition to her live shows Jessica has released the dance club single "Passion" - which is available over her website. A demo CD - based on a selection of Pamela Williams' songs - is available as well for those who would like to promote/produce Jessica's own music.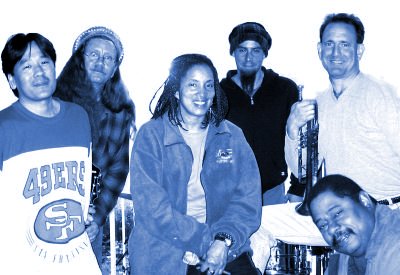 Mark Okimoto, KC Konnor, Jessica Knox, Kris Dinoto, Steve Gileno, Mel Nelson