Rhythm Doctors, that's a band well known around the San Francisco blues circuit and a band that truly offers blues to heal the soul. They play original compositions, well known songs and seldom heard songs - always creating a unique blend of Blues, Dance Blues, Rockabilly, R&B.

Pictured above are Jim Howard (bass), Adrian Gromley (alto sax), Jimmy Cooper (drums), Philip Mignaud aka The Reverend Doctor (guitar/vocals) and Aaron Bennet (baritone sax). Although the Rhythm Doctors are usualy a five piece band they can and do add players if needed.

The band was founded in 1997 by Philip Mignaud and Jimmy Cooper with Rick Quinn on harmonica and Mike Regan on bass. Mike Handler took over on harmonica in late 1997 and was replaced by talented Erik Eisen in 1999 who played with the band until 2003 - as did Michael Husser on bass. Erik found out he had skin cancer in the summer of 2003 and died of it March 2004. Erik was also known to Bay Area twang fans as the harmonica player in Jeanie and Chuck's Country Round-Up.

Founder and lead guitarist and vocalist Philip "Reverend Doctor" Mignaud was born in Britain. He performed on National Radio at age 14 and made numerous TV, radio, and album appearances. He immigrated to North Carolina in 1987, and became lead guitarist/vocalist with Tone Deaf James & The Bedrockers, three time winners of the "Best Blues Band Award" in Charlotte's Creative Loafing magazine, before moving to California in 1996 wher he co-founded Rhythm Doctors early 1997. He is also the producer of their debut album "Blues To Heal The Soul".

Drummer and co-founder, James Cooper has been a percussionist for 32 years. Originally from the St. Louis area, he moved to California in 1979. James has been involved in many styles of music, including rock, blues, funk, rhythm & blues, country, and jazz. A drum tech and prodigy for the legendary jazz drummer Donald "Duck" Bailey since 1993, his individual style and influence has been the integral "heart beat" of their unique blues sound.

When Erik Eisen left the band the Rhythm Doctors changed to alto sax with Adrian Gromley and baritone sax with Aaron Benett. Also, the Rhythm Doctors have 3 to 5 bass players that know their songs, most used are Lucy Snow, Dee Hensley, and Jim Howard.

The Rhythm Doctors released their debut album "Blues To Heal The Soul" in the summer of 2001. The album features mostly blues standards like "That's Alright Mama" and "Good Morning Little Schoolgirl". The best song on the CD is the only original compositions though - "Reverend Doctor's Song" has a catchy hook and the rhythm is irresistible. One can only hope that there will be more original songs on the next album. "Blues To Heal The Soul" proves that the Rhythm Doctors know how to fish for your soul. Escape impossible!

The bands second album is entitled "The Blues Ain't That Bad" and once you listen to the tracks on the Rhythm Doctors' website you have to admit that they are right.

Rhythm Doctors in 2005:
Jim Howard, Philip Mignaud
Aaron Bennet, Jimmy Cooper, Adrian Gromley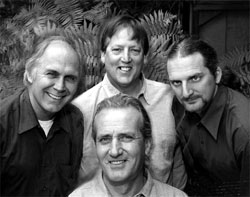 Rhythm Doctors in 1999:
Michael Husser, Jimmy Cooper, Erik Eisen
Philip Mignaud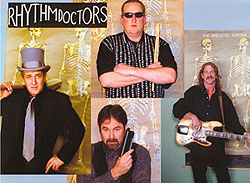 Rhythm Doctors in 1998:
Philip Mignaud, Jimmy Cooper, Mark Gould,
Mike Handler