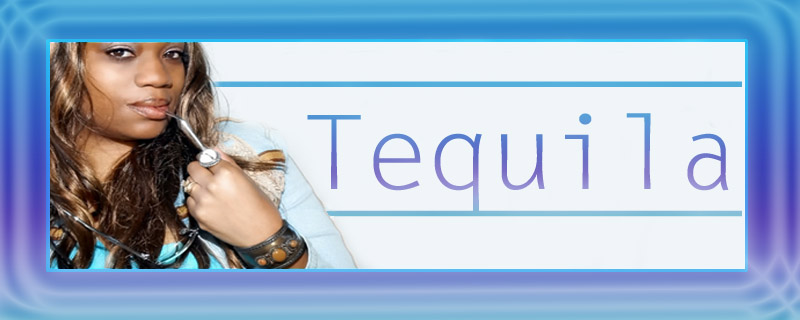 Tequila belong's to Oakland's finest Hip Hop and Rap Queens, ain't no doubt about that. Tequila was born in Berkeley California, raised in Oakland and currently lives in California's hotbed for Bay Area Rap, i.e. Vallejo/V-Town.

Tequila made her singing debut in her fatherís church, the 37th Street Baptist Church in Oakland, CA. She hosted her own childrenís TV talk-show on public access TV at the age of 13. With the success of her TV show and guest appearances in front of large church gatherings she honed her entertainment skills which created huge commotion. Tequila started rapping at the tender age of 14. As a matter of fact Hip Hop wasnít allowed to be played in her house, so she had to sneak tapes in the house and listen in her room on her walkman. There she spent hours listening to many of Hip Hopís legends, and started writing material of her own. She would actually bust over the beats to create her own unique style.

Tequila's debut album was independently released in 2005 and features an outstanding array of songs and guest artists (see album entry below). Especially on any Hip Hop and Rap album it is the mix of contributing singers that decides between top and flop. Tequila's album is an awesome debut indeed. Already the first track "Tequila", featuring the Soul of the Bay Mike Marshall (Timex Social Club) and Tequila on vocals, anticipates the quality to follow. Several of the songs describe the life in Oakland, the West Coast, the Hood - especially "Living In The Ghetto" has all it takes to become an anthem. Tequila also uses explicit lyrics but that's pretty normal if you are doing Rap & Hip Hop these days. Plus, Tequila manages to keep the sexual content at a minimum and her lyrics concentrate on real life issues.
There's a natural flow and rhythm to most of the songs and they are easy to enjoy. Highlights? Yes, there are two tracks that stand out, "JUMP" and "HOPE", being the last two tracks on the album. With "JUMP" Dwayne Thompson hits the vocals right where they belong and the message of the song is not only to jump once the music hits you ..."there is only one way to do it ... you gotta jump". This is true for many other situations in life as well. Just remember that Zora Neale Hurston's mother told her children to jump at de sun - they might not land on the sun, but at least they would get off the ground. Last but not least, the track "HOPE" has refreshing lyrics and the message comes across loud and clear. Several of the tracks on the CD underline that Tequila has all it takes for a big jump, i.e. to become one of the top stars in the bizz today and put San Francisco back on the musical map. Thus her debut album is highly recommended.
Tequila's talent is not unnoticed as she was a hit at the Bay Area Rap Summit, featured in magazines, and TV shows. Currently Tequila is working on the realease of her second CD in 2006. Some of the new tracks, "Time To Shine" & "Tha Glo", can be found on Tequila's website (link below). The track "T and T Blast" is a song Tequila did with Thaahum Keneteph (who is from Arizona) for a movie soundtrack. Let's hope that all these activities will pay off - Tequila deserves it!
Discography
2005 Tequila
Tequila
Tequila
(Gramkracker Entertainment 2005)
Tequila -- Oakland -- West Coast Profile -- Back In The Hood -- Born And Raised In The Ghetto -- Nothing To A Boss -- Wake Up -- Living In The Ghetto -- Nineteen -- I Have Changed -- Sit Back And Relax -- This Is How It Goes Down -- Messy Broads -- Danger -- In The Night -- It May Look Easy -- JUMP -- HOPE

Musicians: Tequila, Joli B, Mike Marshall, Benny Owens, Rel a.k.a. Little Big, Crazy, Jessica, Lionel Randolph, Luther Thomas, Lawrence Jones, John-John, La Meek, Empress Freedom, Shab Jigga, Dwayne Thompson, Rev. McClinton, Yero McClinton, Taresse Womack
Further Links:
Tequila
Tequila's website ...
| | |
| --- | --- |
| © 2002-2015 bay-area-bands.com | |