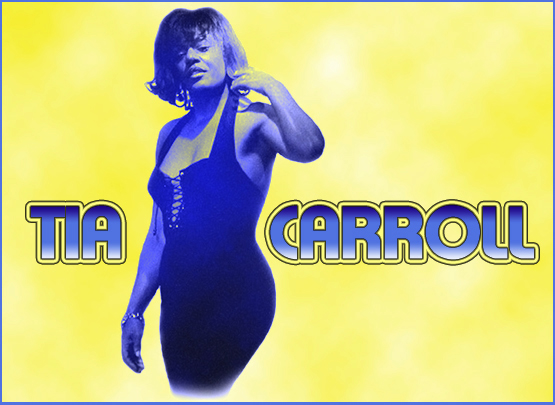 Tia Carroll was born and raised in Richmond, California and her singer's career started before she even knew it was a career. According to her parents Tia sang instead of crying when she entered this world. Although this might be hard to prove, it can be said that Tia grew up listening to musicians like Stevie Wonder, Larry Graham, Ike & Tina Turner, the Beatles and The Monkeys (!?). Tia listened to and sang along with everything and everybody, thus her musical influence runs the gamut which also helps to explain the various styles on her albums.

Tia's first paying gig was with an old time rock n roll band called Yakety Yak at a backyard BBQ. Luckily there have been many memorable performances, including Eddie Money, The Coasters with Leon Hughes and Tia opened shows for Gladys Knight, Ray Charles, Patti LaBelle and Tower of Power. In addition Tia's voice can be heard in the background of a few Bay Area recording artists, i.e. Sugar Pie DeSanto, E.C. Scott and Jimmy McCracklin.

Tia also tours with the legendary blues singer Jimmy McCracklin at select appearances and not so long ago she went on a 12day tour with the Bay Area Blues Society and Zakiya Hooker to Thailand on the island of Koh Samui. There they spent Christmas and New Years doing shows to help raise money for the Tsunami survivors.
On her first CD "Wanna Ride" Tia was taking on a real rock flavor courtesy of her good friend & guitarist George von Giese. Tia recalls: "George added some crazy ! sick guitar licks that really gave me some inspiration". Tia's second and self-titled CD, "Tia Carroll", is a bit more Soul and R&B, and the musicians on that project were strictly hired guns with plenty of musical ammunition blasting throughout the entire album. Both CDs are highly recommended, especially on the second CD it has to be said that Tia's voice is awesome and the musicians on the album knew how to support her - blues, R&B, rock at its best!!!
For some time you could catch Tia performing in the lead singer role with the Dave Matthews Blues Band and plenty of cameo appearances with other Bay Area bands or as Tia says: "Letís face it, this town is too small not to run into a musician that you have performed with."
Here's a webcast from October 23, 2006 featuring Tia and her band Hard Work:
In 2007 Tia Carroll was nominated "Best Traditional Blues Woman" by the Jus Blues Music Foundation and awarded "Female Blues Vocalist Of The Year" by the West Coast Blues Hall Of Fame.
Tia is currently touring California (dates can be found on her website) and working on her 3rd solo recording project, "Soul Survivor" which represents a large chunk of her life & times - stay tuned!
Discography
1997 Wanna Ride
2005 Tia Carroll
Tia Carroll
Wanna Ride
(Big Cat Entertainment 1997)
Vudoo Woman -- Lets Rock -- Wanna Ride -- Sarah Sarah

Musicians: Tia Carroll (vocals), Jorge Icabellis (drums), George von Giese (guitar, bass), Maureen Smith, Angela Palmer, Sue Mc Cracklin (background vocals)

Order from TiaCarroll.com

Tia Carroll
Tia Carroll
(Big Cat Music 2005)
Cold Shot -- I Wanna Tell You -- Breakin' Up Somebody's Home -- Damn Your Eyes -- Open Up The Barn Door -- Got My Mojo Workin' -- Let Go -- Love Thing -- Steamy Window -- If Lovin' You Is Wrong

Musicians: Tia Carroll (vocals), George von Giese (guitar), Michael Harper (bass), Jorge Icabellis (drums), Sue Mc Cracklin, Eldridge "Big Cat" Tolefree (background vocals)

Order from TiaCarroll.com