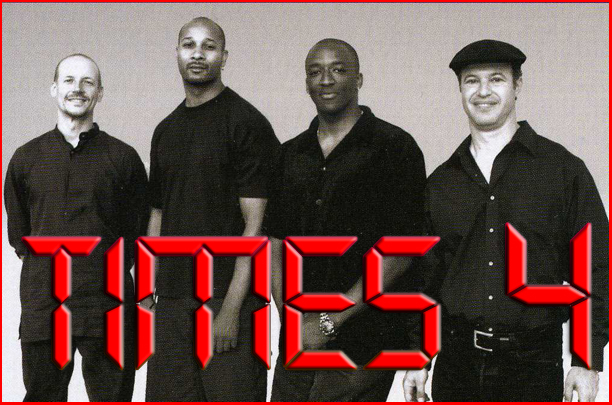 Greg Sankovich, Kevin Lofton, Maurice Miles, Lincoln Adler
Times 4 is an instrumental performance quartet of San Francisco Bay Area natives.They present an energetic concoction of all-original music, integrating groove-based funk/hip-hop beats with modern harmony and jazz improvisation. The strong interconnections displayed by the group derive from Maurice and Kevin being friends and musical collaborators since high school; likewise, Lincoln and Greg recently renewed a musical dialogue that also dates back to their teen years. Together, Times 4 delivers a potent force of fresh and energetic interplay steeped in the history of friendship and common musical roots.
The members of Times 4 have, together and individually, traveled worldwide contributing their sound to a wide range of musical projects with many talented artists.
Lincoln Adler is a native of Berkeley, California. He started playing music at the age of 5, and eventually found the saxophone in high school. After playing in local bands through high school and in college, where he was active in the UC Jazz Ensembles, he headed south to Los Angeles. There he met with quite a bit of success playing sessions and in several of his own bands, including Rain-bo Tribe. Lincoln played on albums by such artists as kd lang and Olivia Newton John, wrote and produced music for TV commercials and films, and put out 3 albums under his own name. He played with actor/pianist Jeff Goldblum's Mildred Snitzer Orchestra for several years, including a performance at the Playboy Jazz Festival, before returning to Berkeley.
Greg Sankovich has been performing on keyboards and producing music since he was twelve years old. He began with classical studies when he was five years of age and later studied with some of the finest jazz and Latin pianists in the San Francisco area. His musical inspirations include Herbie Hancock, Bill Evans, George Duke, and Keith Jarrett. After graduating UC Berkeley, where he was active in the UC Jazz Ensembles, Greg moved to Japan with jazz-fusion group, Taikun. He lived in Japan for over ten years, performing and composing for a "who's who" list of top Japanese artists before returning to San Francisco in the mid-90's. Greg has since contributed to an eclectic range of musical projects form jazz to house to hip-hop and pop collaborations. He has worked with many talented artists, including Brenda Boykin, Terry Francis, H-Foundation, Onionz and Ten Ton Chicken.
Kevin Lofton provides the harmonic foundation, the roots of Times 4's sound. His rhythmic conception and energy keep the band grounded, while at the same time providing the base from which they're able to launch their adventurous improvisations. A San Jose native, Kevin has been playing with Maurice Miles since their high school days. Their musical partnership, based on a long friendship, gives the bass and drum team an uncanny empathy to communicate musically, driving the quartet to greater heights with every performance.
A native of San Jose, California, Maurice Miles is truly the heartbeat and foundation of Times 4. He has the amazing ability to combine the complex elements of jazz, funk and hip-hop in his playing to create a sophisticated groove that enters the dance sphere.
(All of the above taken from band's website.)
So what can said about the CD "Seductivity"? First of all the album's cover artwork by Lu Hong is outstanding but the main reason to buy this album is the music. Instrumental jazz mixed with funk and hip hop elements. At times the album sounds like the recording of one superb jam session and one wishes to be around when the band plays live. All (!!!) musicians know how to play their instruments and how to create a smooth atmosphere. That's three steps to happiness: 1) buy the CD, 2) insert into CD player, 3) enjoy the evening :)
Times 4's second release is called "Relations" - be sure to visit the band's websites for further information.
Discography
2004 Seductivity
2007 Relations
Times 4
Seductivity
(Groove Tonic Music 2004)
Blue 5 -- Suzy's Samba -- Sacrifice - Seductivity -- Down Low (live improvisation) -- Red Light -- Distracted -- Delicious -- Uncle Funker -- Balancing Stick

Musicians: Lincoln Adler (tenor saxophone), Greg Sankovich (keyboards), Kevin Lofton (bass), Maurice Miles (drums)




---

Times 4
Relations
(Groove Tonic Music 2007)
M.O. -- Mojito -- Thickness -- Cell Phone -- Enterlude - Full Moon -- Relations -- Central Park -- Hericane -- Exitlude

Musicians: Lincoln Adler (tenor saxophone), Greg Sankovich (keyboards), Kevin Lofton (bass), Maurice Miles (drums)