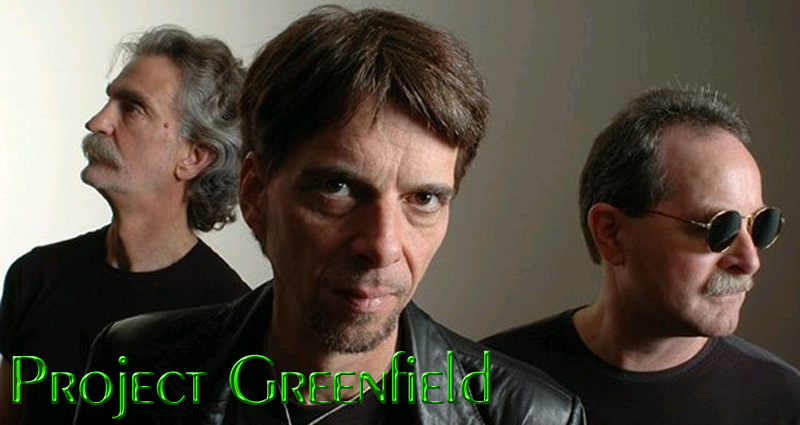 Project Greenfield that's Bay Area music par excellence, i.e. music for the mind = psychedelic rock, East Bay funk, jazz fusion and lyrics that blend with the music. The band consists of musicians that know their trade (see info underneath). Together they create music that features quite a few styles the Bay Area has to offer. All of the songs on their new album "Edge Of Time" were written by Pat Morris and Jim Knowles (except 'Para Ti' and 'Whitecaps'), i.e. Project Greenfield doesn't need to copy they create their own flow of music. The album tries to capture the band's live sound and one gets an idea of the spheres Project Greenfield reaches when playing a club.
Check out the band's personnel and discography:
| | |
| --- | --- |
| | Pat Morris combines rock, jazz, fusion, funk, classical, and reggae in a powerful, expressive style. Pat studied classical guitar with Josef Raposo, jazz and theory at Berklee College, and with jazz legend Dave Creamer. He toured the East with funk & soul bands Brothers Six and Kith & Kin, opening for acts such as Harold Melvin & the Blue Notes, and recorded backing tracks for R&B singer Margo Thunder. After moving to California, Pat toured with rock and fusion bands Elements, Hot Face, Mystery Train, Automatic Blue, and with roots/reggae band George & the Wonders. Pat did session work with producer Paul Harvey for A & M and Warner Bros, John Lee Hooker, and legendary reggae guitarist Hux Brown. |
| | |
| --- | --- |
| Jim Knowles began playing keyboards professionally in his teens and has backed R&B artists Jimmy McCracklin, L. C. "Good Rockin" Robinson, and toured with It's a Beautiful Day founder David LaFlamme. He's shared the stage with Big Mama Thornton, Larry Graham, John McLaughlin and Jorma Kaukonen, and has recorded at Wally Heider/Hyde Street and Fantasy studios. Knowing no better, he hooked up with Pat and Tim in the Bay Area jazz fusion band Elements and rock band Hot Face. | |
| | |
| --- | --- |
| | Tim Cuny has been laying down a solid beat for over 30 years as a performer and recording artist. Tim grew up in Chicago and cut his teeth in the tough neighborhood clubs that are famous for defining the sound of Jazz, Blues, and R&B. Tim studied drums and the incorporation of Tai Chi with master drummer George Marsh. Tim has had the opportunity to play with and shared the stage with diverse musicians including Curtis Mayfield, Canned Heat, BB King, Tommy Castro, Tower of Power, and many other Bay Area bands and performers. |
| | |
| --- | --- |
| Kip Kent has been playing bass for over 30 years and has had the chance to work with or share the stage with such names as Nick Gravinites, John Mayall, Marshall Tucker, The Fabulous Thunderbirds, Cold Blood, Barry Melton, Denny Fongheiser (Tracy Chapman), Jeffrey "Woody" Woodruff (engineer - Natalie Cole "Unforgettable"), Rose Royce, Clifton Chenier, and a ton of other great, unknown Bay Area musicians (you know who you are). | |
| | |
| --- | --- |
| | Pepe Jacobo teaches guitar (acoustic, electric) and percussion (drum set, other). He received his Diploma in Music from the University of Costa Rica. Pepe studied with Stewart Mars; had private classes with Antoni Saroni, Pete Magadini and others. He creates and performs original music on guitar and percussion with leading groups including Jorge Santana, Mas Cabeza, CALIENTE 2000, and Volcan. |
Discography:

2006 Edge Of Time
Edge Of Time
Project Greenfield
(Greenfield Studios 2006)
What It Is -- I'm Gone -- Edge Of Time -- Uptown Jam -- Change Of Heart -- 500 Million Years -- Para Ti -- My, My, My -- Whitecaps -- Soul Police -- Buddha Blues

Musicians: Pat Morris (guitar/vocals), Jim Knowles (keyboards/vocals), Tim Cuny (drums), Kip Kent (bass), Pepe Jacobo (percussion); Brett Harmon (bass), D.C. Carter (drums), Gary Arago (guitar/keyboards), Joey Reyes (bass), Jim Gordon (bass)

---
Further Links:
Project Greenfield @ CDBaby!
| | |
| --- | --- |
| © 2002-2015 bay-area-bands.com | |