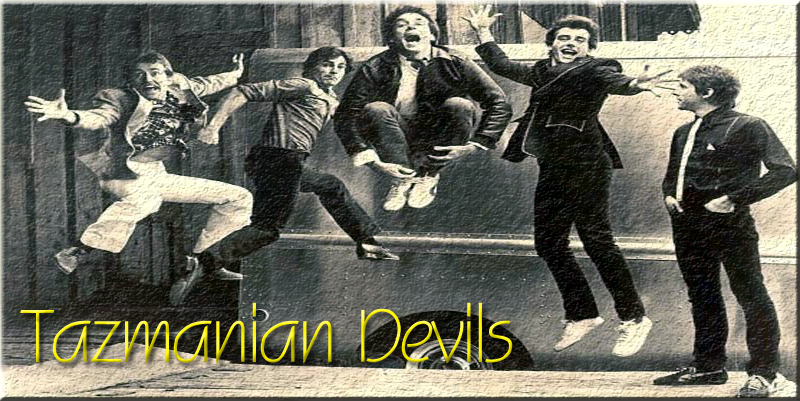 The Tazmanian Devils (aka Taz) played their first gig in 1976 at the Sleeping Lady Cafe in Fairfax. Their new wave/reggae rhythms created a strong following and after a few years on the club circuit the band got the chance to record two albums for Warner Brothers and a live EP on the local DubLab label in 1980 and 1981 (see discography below). As a matter of fact the albums didn't succeed and the band decided to disband.

Pictured right are: Barry Lowenthal (drums), Pat Craig (keyboards), Duane Van Dieman (bass), David Carlson (lead guitar), and Dennis Hogan (vocals/guitar).

Even though the band disbanded they stayed in touch as friends, played together from time to time and finally decided to record a new album.

2006 sees the release of the new rock'n'reggae flavoured Tazmanian Devils' CD "Taz Nuvoux" on Dubwest Records. The band includes four of the five original members and Parabar Martin Weber on keyboards. They recorded new tracks and added the four live tracks of their 80s live EP as a bonus. The CD was produced by bassist Duane Van Dieman who also offers Taz's music at his Funkclub website (link below). The Funkclub website is a wonderful preservation of Bay Area bands as it also features further info on The Old Gray Zipper, Steamin' Freeman, and Secrets.
I highly recommened to buy the new CD, especially because it inludes all four tracks of the 1981 Tazmanian Devils' "Live" EP ... just remember that the Tazmanian Devils received a Bammy for being the Bay Area's "Best Club Band" in 1981. Need I say more?
Discography:

1980 Tazmanian Devils (Warner Brothers)
1981 Broadway Hi-Life (Warner Brothers)
1981 Live (EP) (DubLab Records)
2006 Taz Nuvoux (Dubwest Records)
The Tazmanian Devils
Tazmanian Devils
(Warner Brothers 1980)
Feel Alright -- Window Into Heaven -- Spy In The House Of Love -- Don't Slip -- West Coast -- Laura -- Sender To Me -- My Obsession -- Pressure -- Music

Musicians: Dennis Hogan (vocals/guitar); Dave Carlson (guitar); Duane Van Dieman (bass/vocals); Barry Lowenthal (drums/percussion); Pat Craig (keyboards)

Out of print!

Broadway Hi-Life
Tazmanian Devils
(Warner Brothers 1981)
Dirty Bop Party -- She's a Rocker -- Little Sister -- Kids -- Rockers Die Young -- Lords of Frisco -- Giveaway -- Don't Hold Up -- Dub-Ble Up -- Breakdown

Musicians: Dennis Hogan (vocals/guitar); Dave Carlson (guitar); Duane Van Dieman (bass/vocals); Barry Lowenthal (drums/percussion); Pat Craig (keyboards)

Out of print!

Live (EP)
Tazmanian Devils
(DubLab Records 1981)
Lords Of Frisco -- Music -- Pressure -- Not Fade Away

Musicians: Dennis Hogan (vocals/guitar); Dave Carlson (guitar); Duane Van Dieman (bass/vocals); Barry Lowenthal (drums/percussion); Pat Craig (keyboards)

Recorded live at Keystone Berkeley.

Out of print!

Taz Nuvoux
Tazmanian Devils
(Dubwest Records 2006)
Just Like a Shelter -- Showdown -- Rock Steady -- Intensified -- King Tubby's Return -- Gravity Man -- Honey Road -- Final Call -- Shame and Scandal -- Icehouse Rock -- Safety Zone -- Lords of Frisco -- Music -- Pressure -- Not Fade Away -- Intensified Dub (2006)

Musicians: Dennis Hogan (vocals/guitar); Dave Carlson (guitar); Duane Van Dieman (bass/vocals); Barry Lowenthal (drums/percussion); Parabar Martin Weber (keyboards)
Further Links:
Tazmanian Devils @ Dubwest Records
| | |
| --- | --- |
| © 2002-2015 bay-area-bands.com | |