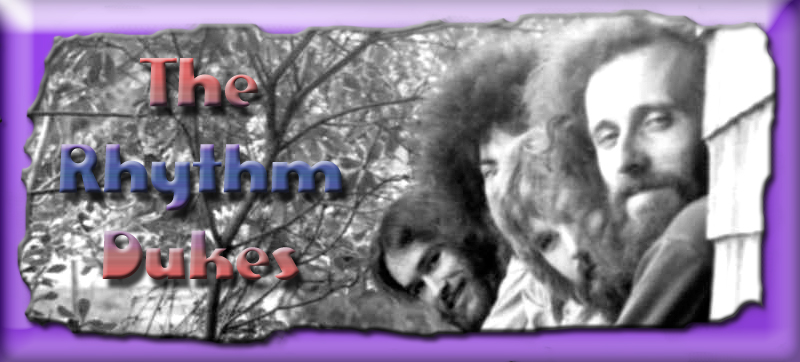 The Rhythm Dukes in 1970: Bill Champlin, Fuzzy Oxendine, Jerry Miller, John Barrett
The Rhythm Dukes was created in the late summer of 1969. Before, there was a trio called The Boogie with Barry Bastian, John Barrett and John "Fuzzy" Oxendine. Fuzzy had replaced Kilos Kowalski (aka Mike Kowalski), who had left to play with the Beach Boys. Before Kilos left, The Boogie was called The California Memorial Band and included two sax players named Goose and Crow. Crow went on to play in the Silver Fox Band and Goose moved to L.A.
Barry had a brush with the law and had to do 90 days. Subsequently John Barrett and Fuzzy Oxendine were 'loose' and after Barry left for good (he later formed the already mentioned Silver Fox Band in Northern California.), John and Fuzzy decided to do something else as a rhythm section. As a matter of fact Moby Grape broke up around that time.

Jerry Miller who had been with Moby Grape wanted to start a new band and called Fuzzy and John. Jerry was living in Boulder Creek and John and Fuzzy were living in Marin County. So both packed up and moved to Santa Cruz to an old stagecoach stop called 1906 Glen Canyon. A great place for a band, away from the road on 80 acres of meadows and redwoods.

The house was funky, but they fixed it up real nice, built a rehearsal room and started writing and playing music. The original Rhythm Dukes members were Jerry Miller and Don Stevenson from Moby Grape, plus John Barrett and Fuzzy Oxendine.

Don Stevenson left the band after a short while, though. He probably prefered to play drums instead of guitar as John Barrett recalls. Subsequently the Rhythm Dukes played all over the place as a trio, but soon yearned for more substance in the music. Right around that time the Sons of Champlin disbanded for a while and Bill Champlin joined up with the Rhythm Dukes trio adding his voice, guitar and his B-3. Along with Bill came faithful roadies Charlie Kelly and Hog Steve. The Rhythm Dukes trio added their own Bill Leidenthal to the crew and they were ready to rock.




Big Brother & Rhythm Dukes
20./21. February 1970
The band was very popular - by some rated as one of the best West Coast bands in 1970 - and played lots of venues before disbanding in 1971. Jerry Miller had contract obligations with Columbia Records and was not available a lot of the time. That did not go well, as the band's income was suffering, and they had to cancel some big gigs on very short notice. When Bill Champlin went back to the Sons of Champlin the Dukes had other members for a while, i.e. Russell Dahneke, a fine guitarist from the club scene in San Francisco and Ned Torney from the Chocolate Watch Band.
Eventually Moby Grape was trying to make a comeback, so it was the end of the Rhythm Dukes.
Due to the fact that some tapes and the studio recording made in Marin County survived, the Rhythm Dukes' music has become available for the first time now. The album is entitled "FlashBack" and highly recommended as it not only includes members of Moby Grape and The Sons of Champlin but some cool West Coast music as well. Some of the tracks were later even recorded by the Sons of Champlin on their albums "Follow Your Heart" (1971) and "Welcome To The Dance" (1973).
Last but not least, the Rhythm Dukes are scheduled to play at this years Summer of Love celebrations. So please check out the band's website for further information.
Discography
2005 FlashBack
FlashBack
The Rhythm Dukes
(The Rhythm Dukes 2005)
Love Your Daddy All Night -- Kansas City -- Perfect -- She's A Woman -- I Don't Know -- Hey, Children -- Children Part II -- For Joy -- I'd Like To Get To Know You -- Seven Four

Musicians: Bill Champlin (vocals/guitar/B-3 piano); Jerry Miller (vocals/guitar); Fuzzy Oxendine (vocals/drums); John Barrett (vocals/bass)

Recorded April 16th, 1970 at the Church, San Anselmo, Marin County, Engineer Bruce Walford.
Albums featuring members of the Rhythm Dukes:
Further Links:
Sons of Champlin's Official Website
| | |
| --- | --- |
| © 2002-2015 bay-area-bands.com | |