The Muskadine Blues Band was a Bay Area band that started at the end of the 60s. Bass player Doug Martin heard Mark Adams play at a cafe and suggested they start a band. Doug brought in Lane Hirabayashi on guitar and Brian Hogan on horn. This was around 1968. The band played gigs with The Flying Circus, Clover, Michael Bloomfield, Dan Hicks and his Hot Licks - to name a few.

Toby Byron, who would later become Bloomfield's personal manager, booked the band. After Mark Adams and Dan Hayes joined up and started the Dan Hayes Group, Muskadine continued without Mark, replaced Lane Hirabayashi on guitar after he too left (not sure by whom though). Lane left the band because he started to study seriously and decided in 1974 to begin doctoral work in socio-cultural anthropology at Berkeley. Today he is a well known Professor of Asian American and Ethnic Studies at U.C. Riverside. Other additions to the Muskadine Blues Band were Hadi El Sadoon on trumpet and John Farey on keyboard (Dan Hayes went to high school with both of those guys.)

The Hogan/Farey connection was the basis for Sound Hole, by joining up with Bill Gibson and Mario Cipollina. These bands were mostly about guys from Southern Marin hooking up with players from Central Marin, San Anselmo, Fairfax. In the end though, The News was mostly a Southern Marin band. Perhaps it was The Sons who started this connection, as well as the music teachers from Tam and Drake High ...

Anyhow, luckily the Muskadine Blues Band got the chance to record in the famous Church Recording Studio in San Anselmo in 1969 and finally these tracks are avialable on CD for the first time (see underneath). The Muskadine tracks are quite a treat and display the outstanding pool of musicians available in Marin County at that time.
| | |
| --- | --- |
| Doug and Mark at Muir Beach | Dan Hicks/Muskadine February 1970 |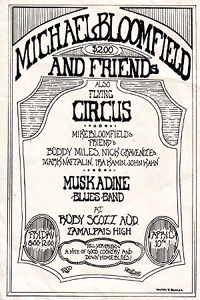 Bloomfield/Circus/Muskadine
April 1970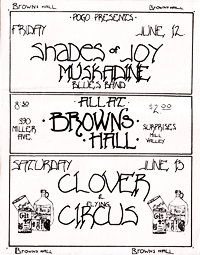 Shades/Muskadine/Clover/Circus
June 1970