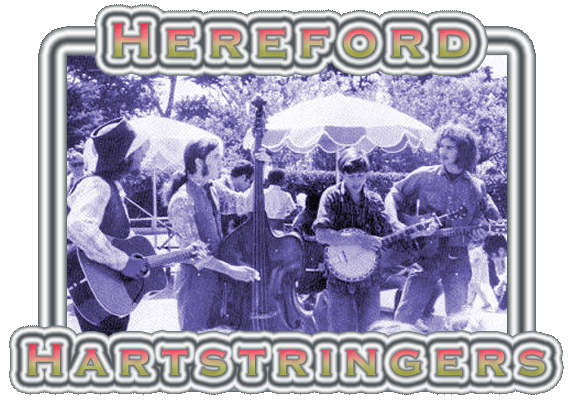 Dan Morrison, Sean Hopper, Phil Richardson, Terry Hansen
The original Hereford Hartstringers was a trio featuring Phil Richardson, Sean Hopper and Gregg Gavin who started playing together around 1968. When Gregg left to join the Ofoedian Den Terry Hansen and Danny Morrison joined the Hartstringers. This line-up is pictured above. The name Hereford Hartstringers was chosen in honour of Phil's grandfather George Wheelright who owned a ranch which took up great parts of the valley leading down to the Muir Beach.
Muir Beach was the place were The Tiny Hearing Aid Company, changing their name to Clover, and The Flying Circus, changing the name to Circus, used to live and play. The Hartstringers did a lot of gigs with Clover at Muir Beach and Brown's Hall and they became close friends. The Clover guys started to like the Hereford Hartstringers' bluegrass, folk and country style very much. The friendship would become so close that Sean Hopper and Phil Richardson would sit in with Clover after the Hartstringer's set on piano and fiddle.

The first one to leave the Hereford Hartstringers was Terry Hansen, who left to hitch hike around Europe in 1969. Before Terry was with the Hartstringers, he was in a band called Ugly Harpies - who did a lot of gigs with The Tiny Hearing Aid Company - with John Casey (a close friend to John McFee and Bob McFee then). Casey played autoharp and piano with the Ugly Harpies. He would join the Hartstringers when Terry left on dobro. Terry and Danny were also jamming with Hugh Cregg (aka Huey Lewis), who would later join Clover.



Sean Hopper, Ove Veggerby, Phil Richardson, Dan Morrison

Sometime after Terry's departure the Hereford Hartstringers became a six piece band adding Ove Veggerby on banjo and Janis Orr on mandolin and vocals. Once John Casey's girlfriend Janis joined, they became known as Kitty Queen & The Beaver Boys for some time. Danny Morrison remembers that it was unknown to him then that Kitty Queen was a brand name for canned catfood :) Eventually the band would change their name to The Little Big Band, which is another story though. They continued to do gigs with Clover and would also sit in with them and others, thus the "Little Big". More info underneath.

Terry remembers that the Hartstringers also played with a well known ex-con turned taxi driver - about to become a famous stolen Pentagon papers hero. He played folk and wrote prison songs and was at many of their gigs. Also, the Hartstringers once played on a fire engine on July 4 with Rita Abrams.
Sean Hopper would eventually join Clover in 1971 and Phil Richardson would play with Norton Buffalo and is on both of Norton's Capitol albums. Sean's and Phil's departure would finally lead to the Hartstringers disintegration in 1973.
Some of the players would work together under the name The Little Big Band until 1977. Players included Danny Carnahan - then known as Dan Lewis - on fiddle (as Phil Richardson was studying viola at the Paris Conservatory), Ove Veggerby on banjo, Blake Richardson on bass, ex-Outfit/Flying Circus drummer Steve Bonucelli, Flying Circus' Bill Hybert on bass/guitar and last but not least Danny Morrison on guitar.
Danny Morrison reunited with Phil Richardson in 2004/05 and started playing local gigs as Danny Montana & The Bar Association - please follow the link(s) underneath for more information.
| | | | |
| --- | --- | --- | --- |
| Personnel | Instrument | Ex | To |
| Phil Richardson | banjo, fiddle, guitar | | Norton Buffalo |
| Sean Hopper | upright bass, piano | | Clover |
| Gregg Gavin | guitar | | Ofoedian Den |
| Terry Hansen | guitar | Ugly Harpies | C.W. Thrills, Locust Variety Band |
| Dan Morrison | guitar | | The Little Big Band |
| Ove Veggerby | banjo | | The Little Big Band |
| John Casey | dobro | Ugly Harpies | The Little Big Band |
| Janis Orr | mandolin, vocals | | Kitty Queen & The Beaver Boys |
Further Links: