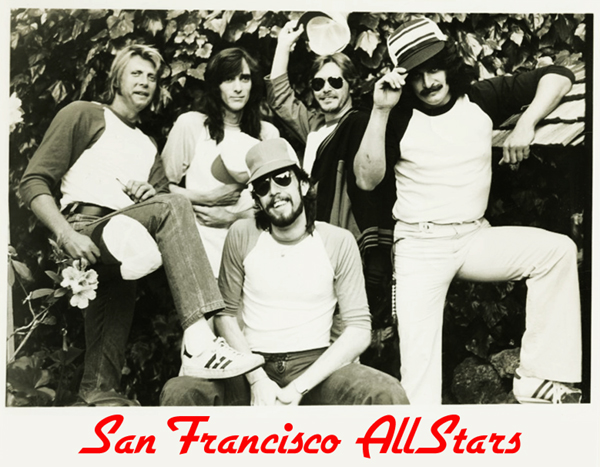 Joey Covington, John Cipollina, Mario Cipollina, Buddy Cage, Steve Love
The San Francisco AllStars toured the first time in 1978 and were formed by the musicians pictured above. Although, it was Joey Covington (drums) who put together the San Francisco Allstars via an agents call from the east. Joey Covington once played with Jefferson Airplane. Buddy Cage (pedal steel guitar) and Steve Love (vocals/guitar) had just left the New Riders of the Purple Sage. They were not satisfied with the band's direction and needed a change. Both returned to the New Riders later, though. For John Cipollina (guitar) this was one of many band projects. Mario Cipollina (bass), ex Sound Hole, had just returned from Japan where he had supported Tony Williams and was already on his way to Huey Lewis and the News.
One of the first ideas was to call the band Bad Dog- named after Love's real bad dog Mercedes. The story on that name can be found in an interview with Buddy Cage (link provided underneath.) Eventually they ended up as the San Francisco AllStars.
They have no offical release but two Italian vinyl bootlegs exist - recorded live at the Pastime, Amityville, N.Y., May 20, 1979. Most interesting for Huey Lewis and the News fans might be that Mario sings lead vocals on "All Worth The Price" a tune written by Greg Douglass. Although the album's sound quality is not always the best it is a lot of fun to hear these guys play live.
There's another San Francisco AllStars concert from October 8, 1979 that can be found at Archive.org (see link underneath). The line-up includes Mark Nielsen on drums though.
Regarding the name San Francisco AllStars, there have been many bands who used this name. It only takes some famous SF musicans to claim this name. Joey Covington/John Cipollina's San Fransisco AllStars toured many times until 1986 with different line-ups.
San Francisco AllStars' (Bootleg) Discography:
| | |
| --- | --- |
| 1980 Amityville Concert Vol. 1 (Flying Horse #FC 005) | 1981 Amityville Concert Vol. 2 (Flying Horse #FC 012) |
Further Links: