John Cipollina's bands included: Copperhead, Raven, Terry And The Pirates, Nick Gravenites, Rocky Sullivan, Man, Zero, Thunder and Lightning, Once, San Francisco AllStars, Man, Freelight, Fish Stu, Problem Child, Dinosaurs, Novato Frank Band ... (please visit Steve Keyser's John Cipollina web site for the complete listing - link underneath).

Cipollina shared his talent and unique guitar style with many bands. That's what one expects of a guitarist, but John always kept his distinct style and no matter which recording, you can always hear that it is John who plays. John developed a unique guitar style which brought him a world wide following and made him become a rock legend and musicians musician. Not many guitarists reach this point. John Cipollina died May 29, 1989 when a lifelong illness (emphysema) caught up with him at the age of only 45.

Pictured right are Doug Kilmer & John Cipollina. Doug Kilmer passed away from cancer August 29, 2005.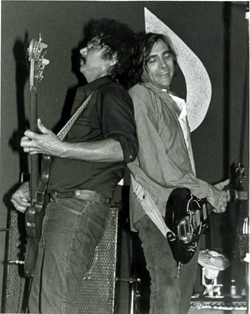 Doug Kilmer & John Cipollina