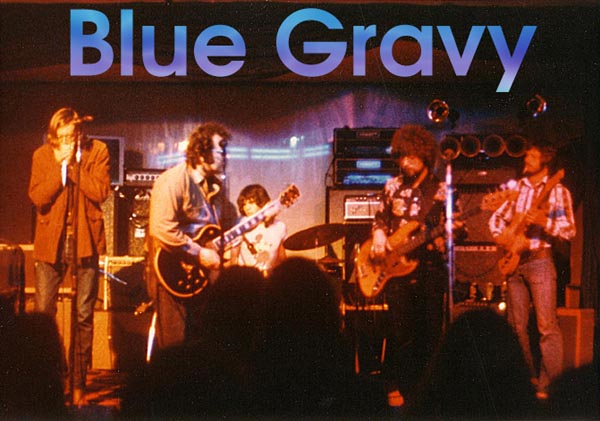 Mark Adams, Nick Gravenites, Lee Bitner, Doug Kilmer, Fred Burton
Blue Gravy included band members Nick Gravenites (guitar, vocals), Mark Adams (harmonica), Fred Burton (guitar), Doug Kilmer (bass) and Lee Bitner (drums). Although Blue Gravy existed for a short time only, they were very popular in the Bay Area. As a matter of fact they didn't release any albums but made a three song demo at the Record Plant in Sausalito, California for Warner Brothers. Ted Templeman was to produce but tax issues nixed the deal and the band dismembered after a year. Mark Adams, who prior to Blue Gravy had been playing with the Muskadine Blues Band, Dan Hayes Group and Dan Hayes Blues Band, went on to play for Alice Stewart and then King Perkoff after that. Nick Gravenites teamed up with John Cipollina and worked on his solo career as well. In later years Gravenites, Adams and Kilmer played together again though - see Gravenites' entry for further info.

One of Blue Gravy's concerts was recorded at the Record Plant and broadcasted April, 22 1973 on KSAN FM. The concert was introduced by Big Daddy Tom Donahue aka "The Father of Underground Radio". KSAN had been the unquestioned leader in progressive radio in the Bay Area for more than ten years from 1968 and many bands used KSAN to gain greater audiences. Luckily the concert is available on the internet (link underneath) and it is almost unbelievable that the band disbanded so soon.




Mark Adams, Nick Gravenites

Lee Bitner, Fred Burton, Nick Gravenites, Mark Adams, Doug Kilmer
KSAN concert setlist:

1 Dekalb Blues
2 Gypsy Good Time
3 Weird Old Crazy World
4 Left Hand Soul
5 Born in Chicago
6 Country Mechanic
7 Anna
8 Theme From Steel Yard Blues (Drive Again)
9 Buried Alive in the Blues

Additional musician: Pete Sears (piano).
Nick Gravenites had already recorded "Gypsy Good Time" on his 1969 album "My Labours"; "Buried Alive In The Blues" in 1971 with Big Brother & Holding Co.; "Drive Again" is from the Steel Yard Blues soundtrack of the same year (1973); "Dekalb Blues" can be found on his 1980 album "BlueStar"; "Anna" on the 1991 Gravenites/Cipollina album "Live At the Rodon". Only "Weird Old Crazy World" (title?), "Left Hand Soul" and "Country Mechanic" seem to be unreleased so far. The latter song being more than outstanding.
The concert can be found here. Plus, if you haven't been on www.jive95.com before, your heart might beat a little bit faster - too much good music there :)
| | |
| --- | --- |
| © 2002-2015 bay-area-bands.com | |