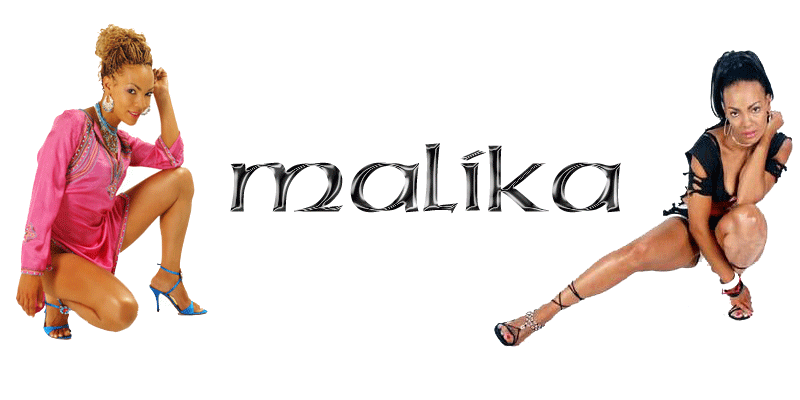 Malika Ubaka was born and raised in Oakland, California by parents in the entertainment industry, Malika couldn't help but pursue her own Hollywood dreams. Her mother was a professional dancer and vocalist in various bands while her father was the lead singer and songwriter that toured from Canada to Europe. With her parents as inspiration and support, Malika started a Hip-hop group in the 1990s called "The Oaktown Girls" that included her Lil' Sis Khaliah. The group became recognized around the Bay Area for their electrifying performances at local events and appearances on radio and television shows.
| | | |
| --- | --- | --- |
| After the dissolution of the group, Malika started her own entertainment company, CU On Top Entertainment, and began appearing on many compilations and projects to become recognized as a solo artist. In the later part of 2003 Malika dropped her solo debut album entitled "You Don't Know". It takes an original artist to standout from the crowd especially with an industry saturated with so many beautiful women. But after one listen to her CD you will know that Malika is no joke. Her fiery attitude and heart-felt lyrics, combined make music people are definitely going to feel. She speaks for the ladies with soulful R&B tracks and spits sassy rap lyrics to the fellas in ways reminiscent to the incomparable Mary J. Blige. In addition to all of this Malika was instrumental in writing at least fourteen on the seventeen tracks on the CD. After working hard with A-Team and Diverse Production on her debut project, Malika anticipates a sophomore follow up very soon. Malika won first place in the Ruff Ryder's West Coast Talent Showcase "Go Hard or Go Home" and in the industry next Showcase II featuring some of the hottest talent in the Bay Area. Malika says that she is always on the grind looking for the next opportunity to get her further in the industry. | | |
| | | |
| --- | --- | --- |
| | | In the Summer of 2004 Malika auditioned for P. Diddy's "Making the Band 3" which is in search of the next hot girl group. Malika took a shot and made the cut. Malika was featured on the show for a whole season which ended in P. Diddy not forming a band but giving three of the seven finalists a second chance at Making The Band!! Malika was one of the girls chosen to continue in the competiton. Malika was recognized by P. Diddy as a person who took the competition seriously and showed a great deal of determination. P. Diddy also described her as a person who rose to the occasion. While working on the reality show which airs on MTV, Malika had a chance to work with industry hard hitters such as Laurie Ann Gibson, choreographer to the stars, Doc Holiday, Americas top vocal coach and manager Johnny Wright who has managed artist such as: N SYNC, Justin Timberlake, and Janet Jackson. Johnny Wright describes Malika as consistent and hard working. |
Malika is also one of the Bay Area's most highly sought fashion models after joining City Models of San Francisco. Malika has appeared in several television commercials and fashion shows. Malika was featured in a section in Fitness Magazine, Jet Magazine as "Beauty of the Week", and also a two page spread in King Magazine that also highlighted other females trying to make the band. Malika enjoys all aspects of the entertainment industry. She feels being well rounded can only enhance her chances of superstardom, which is why Malika also extends her craft to acting and hosting. One of her most recent hosting jobs is for the Oakland Public Schools District, sports channel on KDOL 13 which features Malika hosting different sporting events in the Bay Area some of which include Oakland Raiders and University of California Berkeley's football program.

(All of the above taken from Malika's website - couldn't write it better.)

All said above regarding Malika's album "You Don't Know ..." can only be supported by Bay-Area-Bands.com - Malika definitely belongs to the finest new artists the Bay Area has to offer and she deserves to be successful, like Tequila and Kisha Griffin!!!
Discography
2003 You Don't Know...
Malika
You Don't Know...
(A Team Records 2003)
Intro -- Kinda Girl U Want -- Physical -- What My People Want -- Why Is You Playin? -- You Don't Know -- Crazy -- Holla Back -- I'm Gone -- The Knock -- Got Hustle? -- So Far -- Love Notes -- You Don't Love Me -- Special - Angel Land