Quicksilver Gold were more than just a tribute band to the famous Quicksilver Messenger Service. The various members of this remarkable tribute band are well know within the Bay Area and beyond. Pictured left are the members of Quicksilver Gold's last line-up: Peter Harris, Joli Valenti, Ed Michaels, Mario Cipollina and Gail Muldrow. Besides them being famous musicians of their own, some of them have close ties to the original Quicksilver Messenger Service.

Joli Valenti is the son of the late Dino Valenti who was Quicksilver Messenger Service's lead singer. It is true that Joli's voice resembles his father's voice. He spreads a lot of energy and listening to Quicksilver Gold's CDs makes it obvious how much fun it was for him to be Quicksilver Gold's lead singer. His energy is reflected by the band 'behind' him.

Mario Cipollina is the brother of the late John Cipollina, whose guitar playing defined Quicksilver Messenger Service's sound. Mario has played in various bands throughout the years - including Stoneground, Copperhead, Tony Williams Lifetime, Sound Hole, San Francisco AllStars and last but not least Huey Lewis and the News. Mario also played bass on one song on 'Solid Silver', Quicksilver Messenger Service's reunion album (1975). Within Quicksilver Gold Mario's bass playing was very powerful and supplied a solid rhythm foundation.

Gail Muldrow didn't only add a lot of beauty to Quicksilver Gold, her quitar playing - may it be rhythm, slide or lead - added a lot to the sound of the band. Gail has already recorded with Sly Stone on his album "High On You" when she was only 17 years old, which proves her talent. She has also played with Graham Central Station, Prince, Chaka Kahn and the Jerry Garcia Band. Please visit her entry on this website as well.
Peter Harris was the other guitarist in Quicksilver Gold and is known within the Bay Area as well as he has also played with JGB. With these two outstanding guitarists, songs like 'Gold and Silver' were revived and because both guitarists know how talented they are, the danger of just trying to copy Cipollina/Duncan and fail was never given.

Ed Michaels on drums was the backbone of the rhythm section. He was also the drummer on Quicksilver Gold's second CD. Ed toured several years with Alvin Youngblood Heart and supported many artists - more information can be found on the official Quicksilver Gold website. Ed replaced Quicksilver Gold's first drummer Greg Anton. Greg who was also a founding member of Zero, reluctantly left the band at the end of 2003 because of other commitments.

Barry Flast who has been Quicksilver Gold's keyboard player left the band as well. Barry has been a member of Kingfish for many years and played with many other Bay Area bands. Like Greg Anton, Barry reluctantly decided to leave Quicksilver Gold at the end of 2003. He is not replaced within the band. This is not a problem because the original Quicksilver Messenger Service didn't have keyboards anyhow. Well and as you can see below, Greg Douglass and Jose Najera have been playing with Quicksilver Gold in the beginning (2002/03) as well: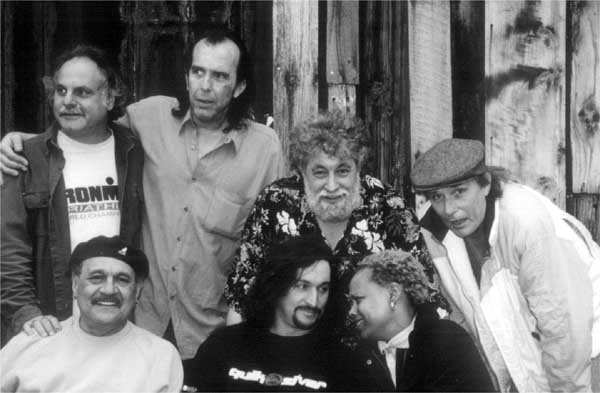 Greg Anton, Mario Cipollina, Barry Flast, Greg Douglass,
Jose Najera, Joli Valenti, Gail Muldrow
Upon major request from their fans within the Bay Area and those in other parts of the world Quicksilver Gold released two live CDs at the end of 2003 which - now unavailable - underline how good Quicksilver Gold were. The first CD contains six songs from a concert recorded in the middle of 2003 and explains why this band is gathered so much attention. It's pure fun to listen to a band that is far away from being a poor copy of the original. The second CD includes a complete show from October 2003, with a special appearance by David Freiberg who has been a founding member of Quicksilver Messenger Service.
There were great hopes that Quicksilver Gold would be around for a longer time but in the middle of 2004 they played their last gig.
Discography
2003 Live At The Little Fox
2003 Live At The Avalon Ballroom
Quicksilver Gold
Live At The Little Fox
(2003)
Mona -- Gold and Silver -- Scarecrow -- Subway -- Bittersweet Love -- Fresh Air

Musicians: Joli Valenti, Mario Cipollina, Greg Anton, Barry Flast, Gail Muldrow, Peter Harris

Recorded at the Little Fox Theatre, Redwood City, California, Friday, June 13, 2003

Out of print!
Quicksilver Gold
Live At The Avalon Ballroom
(2003)
Mojo -- Fresh Air -- Subway -- Gold and Silver -- Mona -- Cowboy On The Run -- Dino's Song -- Pride Of Man -- Get Together

Musicians: Joli Valenti, Mario Cipollina, Barry Flast, Gail Muldrow, Ed Michaels, David Freiberg

Recorded at the Avalon Ballroom, San Francisco, October 11, 2003

Out of print!
Personnel
Instrument
Played/toured with.../Addition Information
Joli Valenti
Vocals
Mario Cipollina
Bass
Quicksilver Messenger Service, Copperhead, Stoneground, Sound Hole, Huey Lewis and the News
Gail Muldrow
Guitar
Sly and the Family Stone, Graham Central Station, Johnny Otis, Prince, Chaka Kahn, Jerry Garcia Band
Peter Harris
Guitar
Jerry Garcia Band, The Webs, House of Bloomfield
Ed Michaels
Drums
replaced Greg Anton
Greg Anton
Drums
-- left Quicksilver Gold at the end of 2003 --
Barry Flast
Keyboards
-- left Quicksilver Gold at the end of 2003 --
Greg Douglass
Guitar
-- played in early Quicksilver Gold --
Jose Najera
Percussion
-- played in early Quicksilver Gold --
| | |
| --- | --- |
| © 2002-2015 bay-area-bands.com | |